If you were to ask someone, someone who has already achieved success or someone who has managed to overcome tremendous adversities, what his/her secret is, he/she is most likely to tell you that he/she wouldn't be able to succeed without the love and support of those around him/her.
I am sure that you, too, have people in your lives who have, through the years, shown love and support that has helped you stay focused on what you want to achieve in life. And although these unsung heroes in our lives do not expect anything in return, we should, in our own way, let them know how much we appreciate them.
Unilab, a trusted pharmaceutical brand, is celebrating their 70th year and they are giving Filipinos a unique chance to show their gratitude to their unsung heroes through an online app that lets you send a free customized dedication cake to someone they want to thank for their husay at malasakit. On the app, users can input their name and the name of their loved one. These will go on the custom dedication cake, which will be sent to the recipient for free.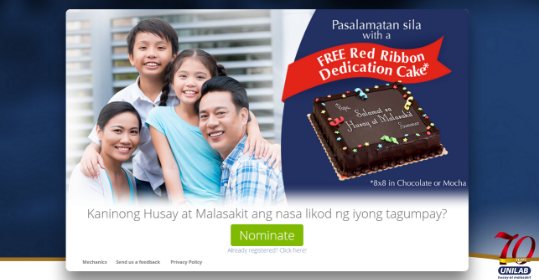 Here's how you can send a free dedication cake to your unsung hero:
* Visit www.husayatmalasakit.com and click Nominate
* Fill out the form. Submit a photo of your unsung hero and briefly write about why you want to thank your unsung hero.
* Wait for the confirmation e-mail from Unilab regarding the approval of your submission.
Winners will receive a Red Ribbon 8×8 Dedication Cake (In Chocolate or Mocha Flavor). 70 winners will be announced per batch from July- September)
1st Batch- July 31, 2015
2nd Batch- August 14, 2015
3rd Batch- August 28, 2015
4th Batch- September 11, 2015
Sounds easy, right? Well then go ahead and visit husayatmalasakit.com and grab the chance to say 'thank you' to your unsung hero.