Browsing Category: "postcard collecting"
This is my entry to the Techie She Lucky Blogger Weekly Giveaways Week 20. This week's prize is $10 from Swexie of Khakiness.
One of the things I was able to accomplish today was that I was finally able to finish preparing the postcards that I'll be sending out this week. I have always been looking forward to receiving postcards from online friends since I started collecting postcards. I truly appreciate the efforts that they make in sending me postcards. I'm truly lucky to have found sweet and thoughtful friends like them online.
Anyway, here are the postcards I'll be sending out this week: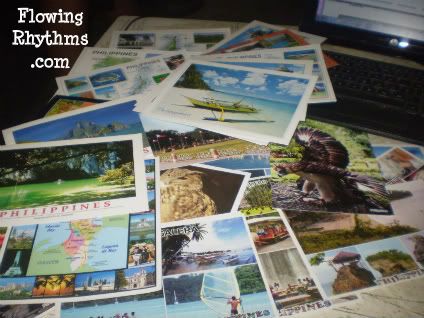 Have a great week, everyone !
I have a new hobby — postcard collecting. I have been chatting with other moms from Pinay Mommies Community and some of them have been been collecting postcards for quite sometime now. They are the ones who got me interested in this hobby. There is actually a site where one can register and then be qualified to receive postcards from random people from different parts of the world. In return, you also have to send the same number of postcards to people who have also registered at the site.
I haven't registered at the site yet, for now I have opted for direct swapping. I have asked for postcards from other PMC members and in return I'm going to send them one , too. Ever since I got interested in this new hobby, I have been so eager to visit the nearest bookstore and buy a couple of postcards. But sadly, the one nearest where I live only have a few postcards left. No, it's not because they have all been sold out but because they don't actually have new stocks. When I asked a sales clerk when they would put on display their new stocks of postcards, she just politely smiled and said, " I don't think there will be new postcards anytime soon. Customers are not really looking for it."
It has actually reminded me of the frustration I felt when I was scouring the bookstores looking for a Mother's Day card to give to a fellow mom from PMC. The choices are so limited that I actually had to go to different stores just to find one.
Gone are the days when one would visit a bookstore and find rows and rows of greeting cards for different occasions. Same goes with postcards.
At the bookstore here at our place , you can only find around 2 rows of greeting cards and about a couple of postcards. And I'm not exaggerating. It seems I have to go a bigger mall and find a couple of bookstores where I can find the postcards I need. If all else fails, I may have to make the postcards myself. Well, that is if I actually have the time to make one.
For now, I would consider it a minor setback; finding the right postcards, I mean. It wouldn't measure to the excitement and anticipation you'll feel when you know that you'll be receiving postcards from newly found friends . Wish me luck !