Browsing Category: "contests"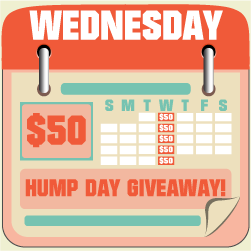 It's Wednesday once again and time for our 1-day event through Hump Day $50 Giveaway! The task for today is Twitter Follow and for all entries to be available, you need to complete the first 3 mandatory tasks before the rest of the entries are enabled. There are a total of 34 entries for a chance to win $50. This is all thanks to our wonderful blog partners and sponsors who continuously support Hump Day $50 Giveaway every week. NEW: After entering the mandatory entries, you will be taken to a separate page to follow the 25 other sponsors. Please completely FOLLOW ALL 25 on the separate page to be eligible for the 25 points. All the sponsors will verify your entry and if you miss to follow one, your 25-point entry will be disqualified. After following all 25 entries (link to all the twitter button will be grayed out), come back to the blog page you first entered on to complete the rest of the Rafflecopter tasks. You may also want to visit our sponsors to show them some love:
My Tots Exactly | Frugal Experiments | Life's Cheap Thrills | Extreme Personal Measures | Fab and Healthy | Beauty Queen Gene | My bric-a-brac | Experience of a Super Mommy | Advocating Breastfeeding | Flowing Rhythms | The 24-Hour Mommy | Diva Fabulosa | Mirage | Coupon Queen of Texas | Sonya's Happenings | Money Saving Mindy | Building Carpenters | Drama Queen | Wrap it with Kelli | June Bug Mom | Pensive Thoughts | Happy Mothering | Bloggers Tech | Wonderful Things In Life | Mommy and Matt | Home Stuff 101
A note: Please join only on one blog. A maximum of 34 entries will be considered. If you have more than 34 entries, the host reserves the right to delete duplicate or fraudulent entries. Also, please use only one name and email address, or Twitter account for quicker validation of entries. On the first mandatory entry, please write Flowing Rhythms referred you. You must complete the first 3 tasks before the other entries are enabled. Thank you very much and good luck. By filling up the form below, you agree to the Terms and Conditions at the bottom of the form. Contest is open all-day Wednesday, from February 22nd, 12:01am EST to February 22nd,11:59pm EST (Februaru 22nd, 12:01pm Philippine time to February 23rd, 11:59am Philippine time).
Last month, Gagay's Page Rank and Thanksgiving Giveaway was launched and the first ten participants who submitted their entries get to receive a Page Rank shirt each. Well, guess what ? I won a shirt ! Woot ! Can't wait to wear my Page Rank shirt soon !
Thanks to Gagay and all her sponsors !
A birthday and a Page Rank of 3 – two great reasons to celebrate. Gagay is hosting a giveaway as her way of giving thanks for these wonderful blessings.
PRIZES :
A total of $360 PayPal cash

1 winner – $100

GENEROUS SPONSORS:
AirForce Blogger | Best of Riyadh Saudi Arabia | Brenna Speaks | Cee of Every Thought Counts | Cooking Games | Cooking Games for Girls | cooking games for girls | Cosmo Girl | Credit Card Informations | Culture Medley | Daily Snippets | Diamond Rings | Dinampo Family | Earning Online Moolah | Eat, Drink, Blog | Engineering Vault | Essay Paradise | Eye for Fashion | Fashion and Technology | Feeling Traveler Aketch | Fishy Talks | Food and Style Online | Foodies Galore | FREE Travels and Tours | Genny Speaks | GEORYL | Hands Full of Life | Hearts content of a mama | Help Articles | Here,there and everywhere | His and Hers Tech | Impulsive Shopper | IMRIZ.connected | It's all about me, Mommy Kat | Jefrox News | Joeyboy | Kwento Ni Toto blog | Life According to Me | Live The Green Life Today | Love home grow garden | LOVEs Haven | Make Money Online | Make More Money Online | Maxi Trips and Tips | Me the Woman | Mommy Gagay | Money Talks | musings on meanderings | My Little Angels in America | My Piece of Mind | My Thoughts & Ideas | Nerisa Farm | Oh Gosh Gulay | Our Love Story | Pinay Mommy Online | Pink Cigars | Pink Memoirs | Pinoy.MD | Praise And Worship Song Lyrics and Chords | Proud Mommy of Three | Rainydazeee | Raya in Thailand | Samut-Sari | Shengkayful's Fashion and Lifestyle | Simple Happy Life | Stylish Voyager | Solitary Wanderer | Solid Hosting | Stay at Home Wife and Mother's Corner | Tech At Hand SEO Tips | The Coffee Chic | The Hippie Mum | The jolly toes | The Misis Chronicles | The Packrat Wifey | The Philippine Travelogue | These and Those | Tinkerputt's Turf | Travels and Leisures | Travels Here and There | Travels, Trips & Vacations | Travel Photolog | TravelYums | Walking News Paper | Web Strategy | Weighty Matters | What's Inside Joahna's Heart
Winners will be chosen through random.org. The giveaway will end on December 15, 2011 so you still have a lot of time to join. What are you waiting for ? Join this giveaway and get the chance to win amazing prizes.