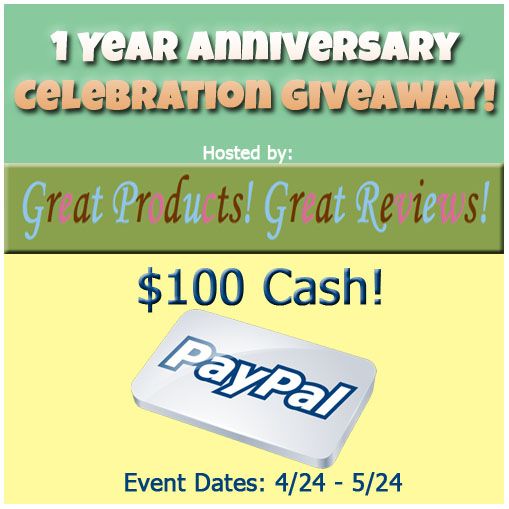 Today is Great Products! Great Reviews!'s 1 year anniversary, so they are hosting a $100 Paypal Cash giveaway for their readers and mine.You surely don't want to miss this amazing giveaway! It can go towards anything that you want!
Also co-hosted by The Lucky Lady Bug and Real Moms Review. Please check them out!
About the giveaway:
One very lucky person will win $100 Paypal Cash!
This giveaway will begin on 04/24/2013 at 12:01am EST and end on 05/24/2013 at 11:59pm EST.
Open Worldwide, must be at least 18 years of age to enter.
Enter through the Rafflecopter form below!
Remember to come back for daily entries!
Good luck everyone!
Disclosure:

 

I was not compensated for this giveaway, nor am I responsible for shipping the prize to the winner.
How fast you will be able to find a buyer for the property that you're selling will depend upon a number of factors. But it would surely help if you use the right tools that can help spread the word to potential buyers about the property that you're trying to sell. Real Estate Signs are effective advertising tools that real estate firms and even private sellers use in selling a property. Some buyers would usually drive around the neighborhood that they prefer and look for properties that may be up for sale. They would look for signs that are posted in front of the properties that they see.
To maximize the use of these real estate signs, they must be placed strategically within the neighborhood not just in front of the property itself. Some place signs in front of the subdivision to inform potential buyers that there are properties inside that are up for sale. They can also be placed in locations where they can be easily seen. Some can even serve as guides that will point to the exact location of the property. The sign that will be placed in front of the property should be eye catching and should be of the right size. It should be too big that it will obstruct the front view of the property. The colors and even the size of the font that you will use on the sign should also be carefully chosen. The sign should also contain important information so that interested buyers would know who to contact if they want to know about the property. It can also contain information on what makes the property distinct from the other properties that are being sold within the neighborhood. In some cases, flyers are being attached to these signs to provide interested buyers some basic information about the property. This may include the size of the property as well as the number of rooms that it has. It will give buyers an idea of whether the property has the features that they are looking for. Once the use of these real estate signs have been maximized, they can become effective tools that can help sellers find the right buyers.
*This is a sponsored post however, all points and views are my own.
Website owners have different reasons on what made them decide to choose a particular web hosting company. They need to make sure that the specific hosting needs of their websites are met. Creating a stable online presence is important for any type of business these days especially since most consumers are also active internet users. The decision to purchase a product or avail of a service is largely influenced by the information that they acquire online. Companies know that when customers want to know more about a company and the products and services that they offer, they expect to find a website that can provide them with the information that they need. A company website also serves as a communication portal between the company and their customers. The company can easily inform their customers about their new products and promotions through their website while their customers can also use the website whenever they have questions or concerns about the products and services that they have availed from them. It can be as simple as using a Click Here tab on the website and they are assured that the company has received their queries and that they can expect answers from them at the soonest possible time. A web hosting company that can provide website owners a reliable and stable hosting service is essential if they want to be able to maintain an effective website for their business. Even those who maintain a personal website would like to avoid too much downtime because it would mean losing traffic and website visitors and readers.
The web hosting package that you will choose will highly depend on the specific needs of your website. If you want a more affordable hosting package and you don't mind sharing servers with other website owners, then a shared server is suitable for you. For those who would like to have more control over what's happening on their server, then a dedicated hosting server is a must. With a dedicated server, the client can customize his server and will only pay for the services that he needs. 24/7 customer assistance is also provided to make sure that technical issues will be resolved as soon as possible. Knowing what you need for your website is important if you want to be able to choose the best hosting package for your website.
*This is a sponsored post however, all points and views are my own.